LEAD STORIES
---
$8 Billion Savings Opportunity for Providers and Health Plans Highlighted by 2013 Index 
The healthcare industry could save as much as $8.2 billion by conducting six routine business transactions electronically, according to the 2013 U.S. Healthcare Efficiency Index. Published recently by CAQH, the 2013 Index examines use of these transactions in 2012 and estimates their savings over manual processes:
Claim Submission
Eligibility and Benefit Verification
Prior Authorization
Claim Status Inquiries
Claim Payment
Claim Remittance Advice/Receiving and Posting Payments
For this report CAQH collected data from health plans representing over 100 million covered lives, including 1 billion claims and 3 billion transactions. The Index also included information on the costs of manual and automated transactions for healthcare providers, based on publicly available information and proprietary data from Milliman, Inc.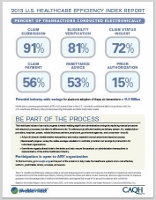 While use of electronic transactions is growing overall, the Index found opportunities to reduce cost by expanding their use and by eliminating redundancies. For instance, the Index found that expanded adoption of electronic claim payment, as well as electronic prior authorizations, would significantly reduce cost. Nearly half (43 percent) of claim payments were made by paper check in 2012, a number that is expected to fall as use of electronic funds transfer (EFT) gains traction. In addition, with an adoption level of only 15 percent, the potential is enormous for use of electronic prior authorizations to deliver meaningful savings, particularly to provider organizations.
Eliminating duplicative manual paper- and phone-based legacy processes is helping organizations improve efficiency. Yet, the Index found that redundant manual inquiries persist despite relatively strong adoption levels for electronic eligibility and benefit verification (81 percent) and electronic claim status (72 percent). Similarly, while more than half (53 percent) of claim remittance advice transactions, which includes receiving and posting payments, were transmitted electronically, more than 10 percent of these were also sent and received by mail.
The Index found the highest rate of adoption for electronic claim submission (91 percent) and noted that closing the remaining gap may require proactive solutions to encourage electronic submissions from small provider offices.
Contribute Data to the 2014 Index
CAQH is seeking data contributors for the 2014 Index, which will examine calendar year 2013 data and analyze findings based on participant interviews and input from industry experts. Any healthcare organization able to extract and report data according to the Index Reporting Standards and Data Submission Guide can participate as a data contributor. Contributing organizations will receive customized individual reports offering a benchmark analysis of their organizational performance alongside national results.
Both health plans and healthcare provider organizations may contribute data. Health plans report information on numbers of transactions by type (electronic, telephone, fax, etc.), as well as information on costs of those transactions. Participating healthcare provider organizations (facilities and medical groups) report on costs of transactions only.
To learn more about contributing data to the Index, download the Index Reporting Standards and Data Submission Guide and contact Jeff Lemieux, CAQH director of research.
CAQH Solutions - the Universal Provider Datasource® (UPD®), SanctionsTrack®, EnrollHubTM, and COB SmartTM – help take unnecessary costs out of the healthcare system by streamlining administrative processes for healthcare providers and health plans.
---
New CAQH Solution, COB Smart, Improving Claims Processes Nationwide 
Health plans and providers across the U.S. have access to COB SmartTM, a coordination of benefits (COB) registry launched publicly in February by CAQH.
This CAQH Solution identifies individuals with more than one form of insurance coverage and uses standard primacy rules to determine which health plan pays first. COB Smart bridges an information gap that is estimated to cost providers and health plans $800 million annually.
The information helps providers initiate accurate claims by enabling claim submission to the correct health plan the first time. This accelerates the revenue cycle and reduces inefficient re-work by providers and health plans. The solution also addresses a source of frustration for patients, reducing delays or denials, and simplifying patient registration forms and questionnaires.
CAQH collaboratively designed and created COB Smart for industry-wide adoption. Any health plan that would like to participate may use COB Smart. The not-for-profit utility currently identifies COB for more than 100 million insured individuals.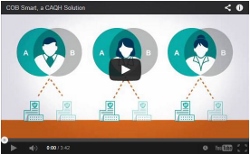 A CAQH white paper and video explain the COB challenge and the collaborative approach used by COB Smart to eliminate it.
To learn more about COB Smart, email cob@caqh.org.
---
Industry Adoption of CAQH EnrollHub Accelerates 
Adoption of EnrollHubTM, the CAQH Solution for electronic funds transfer (EFT) and electronic remittance advice (ERA) enrollment, continues to grow with new participating payers and providers. EnrollHub is a single universal online enrollment solution, through which providers can sign up and manage their EFT and ERA enrollment information with multiple payers. It enables both providers and health plans to enjoy the cost-saving benefits of electronic payments and remittance by eliminating the need for providers to enroll in electronic payments separately with each payer.
As industry adoption of EnrollHub grows, providers are easily able to enroll in EFT and ERA with more participating health plans. In turn, participating health plans are able to reduce costs as additional, sometimes difficult-to-reach providers use the CAQH solution.
New participating payers that now offer providers EFT enrollment through the CAQH Solution include:
Anthem Colorado
Anthem Connecticut
Anthem Indiana
Anthem Kentucky
Anthem Maine
Anthem Nevada
Anthem New Hampshire
Anthem Ohio
Anthem Virginia
Anthem California
Anthem Missouri
Anthem Wisconsin
Blue Cross Blue Shield of Georgia
BlueCross® BlueShield® of Tennessee
CDPHP
CareCentrix
Empire Blue Cross Blue Shield
Kaiser Permanente
MAPFRE
Midwest Health Plan
Unicare
WellPoint, Inc.
Additional payers committed to offering the CAQH Solution to providers in the coming months include FirstCommunity Health Plan, Health Plan of San Mateo, and Humana Inc. EnrollHub is available to all health plans, which pay a low fee to support its operations. It is free for providers.
To get started with simplified electronic payments and remittance advice, visit our website or email eft@caqh.org.
---
Enhanced UPD System to Deliver Comprehensive Provider Data 
CAQH is working toward the launch of the next generation of its Universal Provider Datasource® (UPD) this winter. Enhanced and new capabilities, as well as an improved user interface will help healthcare providers and participating organizations streamline additional processes, such as claims administration and populating member directory information.
Designed to be a useful resource capable of serving all administrative needs for provider data, the next version of UPD will offer a range of new enhancements and features:
More provider data attributes, such as ethnicity, primary language, and practice website
Access to information from non-participating providers and delegates
Data validation for key fields, such as NPI, TIN, and DEA numbers
Expiration prompts for select data and supporting documents
Real-time access to provider data records via a web service
Ability to use NPI to roster providers
Ability to schedule custom extracts
Enhanced change notification reports
These enhancements position UPD to expand provider use of the system, adding considerable value for participating organizations. More than 1.2 million providers already rely on UPD to self-report administrative data about their practice, credentials, and more.
CAQH will communicate directly with UPD providers and participating organizations to ensure a smooth transition. Look for more information on www.caqh.org/overview.php in the coming months.
---
CAQH Partners with DecisionHealth to Present Hands-on Provider Workshops 

CAQH presented several hands-on courses about provider data and the Universal Provider Datasource (UPD) to healthcare providers at the April DecisionHealth National Provider Enrollment Workshop in Chicago. This October, CAQH and DecisionHealth will work together again to offer similar content at the National Provider Enrollment Workshop in Nashville.
The Workshop offers physician practice managers, clinicians and other administrative staff three full days of expanded learning opportunities focused on Medicare and payer provider enrollment, as well as the CAQH Universal Provider Datasource (UPD) system. The CAQH sessions will offer insights and a preview of enhancements for the next generation of UPD, and will share useful tips and tools for providers to use when completing the UPD application.
Beginning in August, healthcare providers interested in attending the fall Workshop can watch for registration discount codes on the CAQH UPD webpage.
---
Readily Access Provider Sanctions with SanctionsTrack Module 
Access to accurate and comprehensive information about disciplinary actions taken with providers, or sanctions, is essential to ensuring that only appropriately licensed providers are working with a healthcare organization. The ability to easily identify providers with sanctions in multiple states, including out-of-state actions on providers, is a significant benefit of SanctionsTrack®, a UPD add-on module.
SanctionsTrack monitors, collects, and delivers information on all U.S. provider sanctions and related actions.
Monitors approximately 500 sources for provider sanctions and/or disciplinary actions
Supplies unlimited access to all data and board order images for sanctioned providers
Provides highly reliable data from an NCQA-certified organization
This solution offers a simple, cost-effective way to manage provider sanctions, supporting a role that is increasingly challenging for health plans. In 2013, CAQH reported to healthcare organizations participating in SanctionsTrack over 41,000 sanctions and related actions, a 40% increase over 2012. License revocations and sanctions related to quality of care, continuing medical education (CME) lapses, and fraud put organizations working with sanctioned providers at risk for fines and penalties.
SanctionsTrack streamlines administrative processes relating to provider sanctions, freeing up resources for other needs. As an add-on module to UPD, participating organizations can quickly begin getting more from the system they already trust to deliver comprehensive provider data.
For more information on SanctionsTrack, contact your CAQH account manager or email info@caqh.org.
---

Upcoming CORE Activities

 

Education Webinars and External Presentations:

New CORE Certifications

Health Plans
Excellus Health Plan - Phase III

Horizon Blue Cross Blue Shield of New Jersey – Phase III

MaineCare - Phase II

Oklahoma Office of Management and Enterprise Services: Employees Group Insurance Division - Phase II
 

Vendors/Clearinghouses
AdminisTEP-
AdminisTEP Next Generation Clearinghouse including Eligibility and Claim Status - Phase I

ASSERTUS-
ASSERTUS Clearinghouse - Phase II

Datavi-
P3NET - Phase III

Orbograph-
Healthcare Payments Automation Center (HPAC) -Phase III

Practice Insight-
EDIinsight - Phase II

Ventanex-
Provider Pay Application - Phase III
 

New CORE Participants

Ameritas
Civil and Health Services Group at
    Computer Sciences Corporation
ClaimRemedi
Oregon Health Authority
Post-N-Track
Providence Health Plan

CAQH CORE® is an industry-wide stakeholder collaboration committed to the development and adoption of national operating rules for administrative transactions. The more than 140 CORE Participants represent all key stakeholders, including providers, health plans, vendors, clearinghouses, government agencies, Medicaid agencies, banks and standard development organizations.
---
Stakeholders Achieve More Than 150 CORE Certifications 
The healthcare industry achieved a CAQH CORE® milestone this fall. Healthcare organizations voluntarily earned more than 150 CORE Certifications and many additional organizations have pledged to become CORE-certified. These commitments are a promising development in the drive to achieve interoperability through end-to-end adoption of healthcare operating rules.
As part of the Patient Protection and Affordable Care Act (ACA), operating rules are included in the Federal vision for health data interoperability. The Phase I, II and III CAQH CORE Operating Rules became federally mandated for HIPAA-covered entities shortly after the Department of Health and Human Services (HHS) designated CAQH CORE as the authoring entity of those operating rules.
Congress also asked HHS to require health plans, including those that are self-insured, to certify their compliance with the operating rules and underlying standards. Earlier this year, HHS drafted a proposal recommending health plans meet this certification requirement either by achieving CORE Certification or attesting that some form of testing has occurred by December 31, 2015.
In anticipation of the potential expanded role suggested by the proposed HIPAA Credential Program, CAQH CORE has prepared a set of draft HIPAA Credential forms aligned with the proposed requirements from HHS. Over a month-long period CAQH CORE collected industry feedback on these forms and ideas for supporting materials that the industry may need to help execute this program. The final required HIPAA Credential application forms will be issued only after the Final Rule is published.
CAQH CORE offers a range of no-cost education programs to support implementation, end-to-end adoption, and certification of operating rules. Learn more at www.caqh.org.
---
CORE Market-based Review of CORE Code Combinations Open Through 1/26/15 
On November 26, CAQH CORE® launched the industry-wide submission period for the 2014 Market-based Review (MBR) of the CORE-required Code Combinations for the CORE-defined Business Scenarios. The 2014 MBR will consider adjustments to the existing four CORE-defined Business Scenarios and the potential addition of new CORE-defined Business Scenarios, with associated code combinations.
Market-based Reviews occur once per year and enable the industry to make adjustments to the CORE Code Combinations to address ongoing and evolving business needs.
All CORE Participants, plus non-CORE Participants that create, use, or transmit HIPAA-covered transactions, may submit potential Market-based adjustments via the online CAQH CORE 2014 Market-based Adjustments Form. Responses to the 2014 MBR must be received by 5pm ET on Monday, 01/26/15.
Learn more about the CAQH CORE Code Combinations Maintenance Process. For assistance in navigating the Market-based Adjustments Form or any questions regarding the 2014 MBR, please email core@caqh.org.
---
2014 CAQH Index to Report on Industry Progress 
CAQH is preparing to issue the 2014 CAQH IndexTM report in early 2015. Based on aggregated data reported for the entire 2013 calendar year, the 2014 CAQH Index will reveal how much progress the healthcare industry has made in its adoption of electronic administrative transactions. In addition, the latest CAQH Index report will highlight savings for the industry on both a per-transaction basis and the aggregated amount that may be saved for the industry as a whole. Building on the 2013 CAQH Index, the same six routine transactions were measured, and two additional transactions were added to the analysis.
Claim Submission
Eligibility and Benefit Verification
Prior Authorization
Claim Status Inquiries
Claim Payment
Claim Remittance Advice
Claim Attachments (New in 2014 CAQH Index)
Prior Authorization Attachments (New in 2014 CAQH Index)
Stakeholders exploring ways to reduce costs associated with administrative processes can use the CAQH Index to analyze their own processes. An online savings calculator provided by CAQH offers a simple tool for both health plans and providers to enter their current volume of manual transactions and estimate cost savings that can be achieved for their organization. The calculator computes results for partially or fully adopting electronic administrative processes in place of manual processes.
Even before the release of the 2014 CAQH Index, additional data contributors are being sought for the 2015 CAQH Index. Health plans and providers are encouraged to participate. Data contributors will receive a customized benchmark analysis that can be used to identify gaps and strategize opportunities to reduce costs related to administrative transactions.
Every stakeholder has a role to play in transitioning to a more efficient healthcare system. Watch for an announcement about the release of the next CAQH Index in early 2015.
To get involved in the CAQH Index or learn more, contact Jeff Lemieux.
---
Matthew Albright has joined CAQH as Senior Manager, Rule Making and Certification. Matthew is facilitating the efforts of the CAQH CORE Subgroup that is developing forms for the ACA-mandated Health Plan Certification. He previously served at the Centers for Medicare & Medicaid Services (CMS) Office of E-Health Standards and Services (OESS) as both Acting Deputy Director and Director of the Administrative Simplification Group. In those roles, he led the drafting of the Administrative Simplification regulations mandated by the Affordable Care Act, including the adoption of the eligibility, claim status, EFT and ERA operating rules, Health Plan Identifier (HPID), ICD-10, and others. Before joining CMS, Matthew drafted regulations for the Health Care Authority of Washington State. He received degrees from the University of Southern California, College of Santa Fe, and Harvard University, and is an adjunct faculty member of St. Martin's University where he teaches philosophy.
Susan Carter has joined CAQH as Senior Product Manager. Susan is managing development and growth for several CAQH Solutions, including EnrollHub and COB Smart. Prior to joining CAQH, she was the Principal Consultant with a management consulting firm, Kindiwa, Inc., where she worked with managed care organizations supporting government programs, delivering strategies and process improvement plans to her clients. Previously, Susan was a Director of Solutions Management at Allscripts for their heritage practice management products, and served as adjunct faculty at a Community College in health administration and business. Susan holds an MBA and an undergraduate degree in Management. She is active in Health Information Management Systems Society (HIMSS) in the Payer and Process Improvement Committees, and is a HIMSS-Certified Professional in Health Information Management Systems (CPHIMS).
Scott Everline has joined CAQH as Inside Sales Manager. Scott is building participation among health plans and hospital systems for the Universal Provider Datasource and SanctionsTrack solutions. Previously, he ran the customer service call center for SAMBA – one of the many Federal Employee Benefits plans available to federal workers. Scott managed a sales operations team for individual, MA and commercial plans at Regence in Portland, Oregon. Scott holds a B.A. from Shepherd University.
Jeri Lynn Kirschner has joined CAQH as Marketing Manager. Jeri is managing marketing activities for all CAQH Solutions, working closely with the Product Management and Business Development teams. Jeri came to CAQH from Orion Health, where she was Manager, U.S. Government Relations and Marketing, responsible for developing marketing strategy, messaging and collateral for alliance and technology partners. Previous IT marketing positions include responsibilities at Accenture and Vangent. She is an active volunteer in HIMSS, serving on their Public Policy Committee. Jeri holds a B.A. from California State University - Northridge.
Brittany Lanahan has joined CAQH as Administrative Assistant for Sales and Account Management. Brittany supports the CAQH Solutions team, assisting with client inquiries, coordinating administrative tasks, managing databases, and tracking daily operational activities. Prior to joining CAQH, Brittany held a similar position with similar responsibilities with the medical software company, Compressus, Inc. Brittany holds a B.A. from Allegheny College.
Daniel Pinard has joined CAQH as Director, Program Management. Daniel has 20 years of experience directing technology projects, and is now responsible for ensuring the successful execution of all projects across the Solutions portfolio. Previously, Daniel was with Active Network, where he built and operated enterprise reservation, licensing, and ticketing systems, led a global PMO, and, oversaw key IT consolidation and M&A activities. Daniel also worked at Watson Wyatt, developing and implementing pension valuation systems in their Benefits Practice. Daniel holds a B.S. in Actuarial Sciences and a M.S. in Mathematics from Laval University in Quebec City, Canada. He also holds the Project Management Professional (PMP) credential, as well as a graduate certificate in Project Management.
Tyler Schultz has joined CAQH as CORE Senior Project Associate. Tyler oversees select CAQH CORE rule-writing activities, including management of the CORE Connectivity and Security Subgroup working on developing an infrastructure operating rule. Tyler's most recent position was with the Advisory Board, where he was an Associate Director, Research and Insights Marketing as well as an advisor for Employee and Physician Engagement. Tyler holds a B.A. from Rhodes College.
Shashi Shankar has joined CAQH as CORE Project Associate. Shashi is currently engaged in the CAQH CORE Phase IV rule development process. Shashi joined CAQH from the Advisory Board where, as a Senior Analyst, he conducted best practice research, benchmark modeling, financial forecasting and claims data analysis. These projects resulted in strategic recommendations to hospitals to maximize their competitive position in local markets. Shashi previously interned at Genentech, Inc. in San Francisco, and Bruker-Biospin Corporation in Massachusetts. He is a graduate of Bates College, Lewiston, Maine, and earned a Masters of Public Health from Dartmouth College.
Mary Thomas has joined CAQH as Senior Manager of Human Resources. Mary oversees employee benefits administration, recruitment, HR information systems, employee relations and staff training. She joined CAQH from J. Craig Venter Institute, where she was Senior Manager of Human Resources. Her previous positions included human resources management positions at CBIZ BeniSource and Watson Wyatt Worldwide. Mary has a B.A. from the University of Maryland, College Park and a PHR from the Human Resources Certification Institute.
Ron Urwongse has joined CAQH as Senior Product Manager. Ron is guiding the cross-functional team responsible for the overall success of the Universal Provider Datasource (transitioning to CAQH ProView in February 2015) and SanctionsTrack. Most recently, he led product development and operations at Tyrula LLC, where he focused on risk adjustment and quality improvement solutions in the managed care space. At Vecna Technologies, Ron served as a product manager for Vecna's QC PathFinder infection surveillance. He also led the development of a billing solution for the Massachusetts Commonwealth Connector, the first state health insurance exchange web site. Ron received his MBA from the MIT Sloan School of Management, Master's Degree in Information Systems Management from Carnegie Mellon University, and B.S. degree in Information Systems from Carnegie Mellon University.
Sara Williams has joined CAQH as Data Entry Associate. Sara is responsible for database management and maintenance to support CAQH operations. In her previous position, Sara focused on healthcare policy issues while working on Capitol Hill with Indiana policymakers. Sara has her B.A. from Purdue University and currently pursuing a M.P.H. from Johns Hopkins Bloomberg School of Public Health.
---
Catalyst is a CAQH ePublication focused on strategies
and best practices for simplifying healthcare administration.