CAQH ProView Scheduled Maintenance: May 8 – May 11, 2020 
The CAQH ProView website will be unavailable between Friday May 8th at 6:00pm EST through Monday May 11th at 7:00am EST due to scheduled system maintenance.   
If you have questions, please contact the CAQH ProView Support Center at 1-888-600-9802. 
CAQH ProView  Release for February 18, 2020: 
The CAQH ProView release for today, February 18, 2020 is designed to help meet Illinois state requirements. 
The Illinois recredentialing application has been added to CAQH ProView
 
With this release, participating organizations are now able to download both the initial and the recredentialing applications for all Illinois providers to help meet state requirements. The recredentialing application is only available for providers who practice in Illinois. 

If you practice in Illinois, you are now able to preview your profile data on both the initial and recredentialing applications through the Provider Portal. You will no longer see the Initial or Recredentialing toggle on the Personal Information screen when Illinois is selected as the practice state. 
CAQH ProView Release for July 15, 2019
Improved Workflow in CAQH ProView Practice Locations Section
The number of steps required to add or update a location has been reduced. 
If providers indicate that they see patients at the locations, PO Box entries will be restricted. 
If providers do not see patients at the locations, PO Box entries will be allowed. 
This update will make it easier to add locations and improve directory accuracy by ensuring more accurate physical locations are able to be published in provider directories.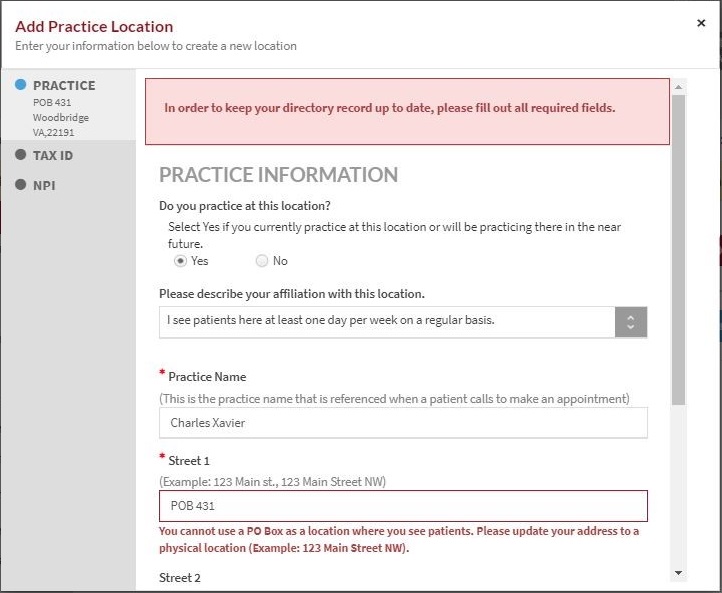 Up Next
NPI 1 Validation Coming Soon  
For the August 2019 release, providers will be required to enter an NPI 1 and to match the following fields: 
| | | |
| --- | --- | --- |
| CAQH ProView |   | NPPES |
| NPI 1  | = | NPI 1 |
| First Name or Other First Name | = | First Name  |
| Last Name or Other Last Name | = | Last Name  |
Prior to the new requirement being released, if CAQH ProView indicates that your NPI entry does not match what is in NPPES, you may update your NPI 1 value. 
CAQH ProView Release for March 25, 2019
A Virtual Assistant was Added to the Chat Support Functionality  
CAQH launched an updated chat support functionality for providers, practice managers and participating organizations. Live agents are available during normal business hours 8:30 AM to 6:30 PM EST. A virtual assistant has been added to field questions 24 hours a day, seven days a week.
To activate new chat functionality,
 select the icon at the bottom of each screen:
Specialty Designations are Required for Certain Provider Types  
To increase data accuracy, specialty assignment is required for providers who are Medical Doctors (MD), Osteopathic Doctors (DO), Doctors of Dental Surgery (DDS), or Doctors of Dental Medicine (DMD).  
Employment Gaps are Required to be Addressed
To reduce health plan outreach, if the provider is currently unemployed, they will be required to account for current employment or offer an explanation when their Employment History record end date is greater than 6 months. North Carolina providers that are currently unemployed are required to account for employment gaps when the Employment History record is greater than 2 months.  
PLI Documents that are in an Approved or Expired Status are No Longer Replaced
To ensure alignment between your profile and supporting documents, PLI documents that are in an Approved or Expired status no longer have the ability to be replaced. If the PLI documents require updating, you must renew their existing PLI records and upload the new document into the new slot.  
CAQH ProView Release for February 4, 2019
Improved In-Portal Broadcast Communications for Providers
To ensure providers are receiving timely CAQH ProView communications, the in-portal message banner is being enhanced, and will appear at the top of every screen that is accessed.
A View More will provide a detailed account of the communication.
All active messages targeted to the provider will display on this screen for up to a year or until CAQH removes the message.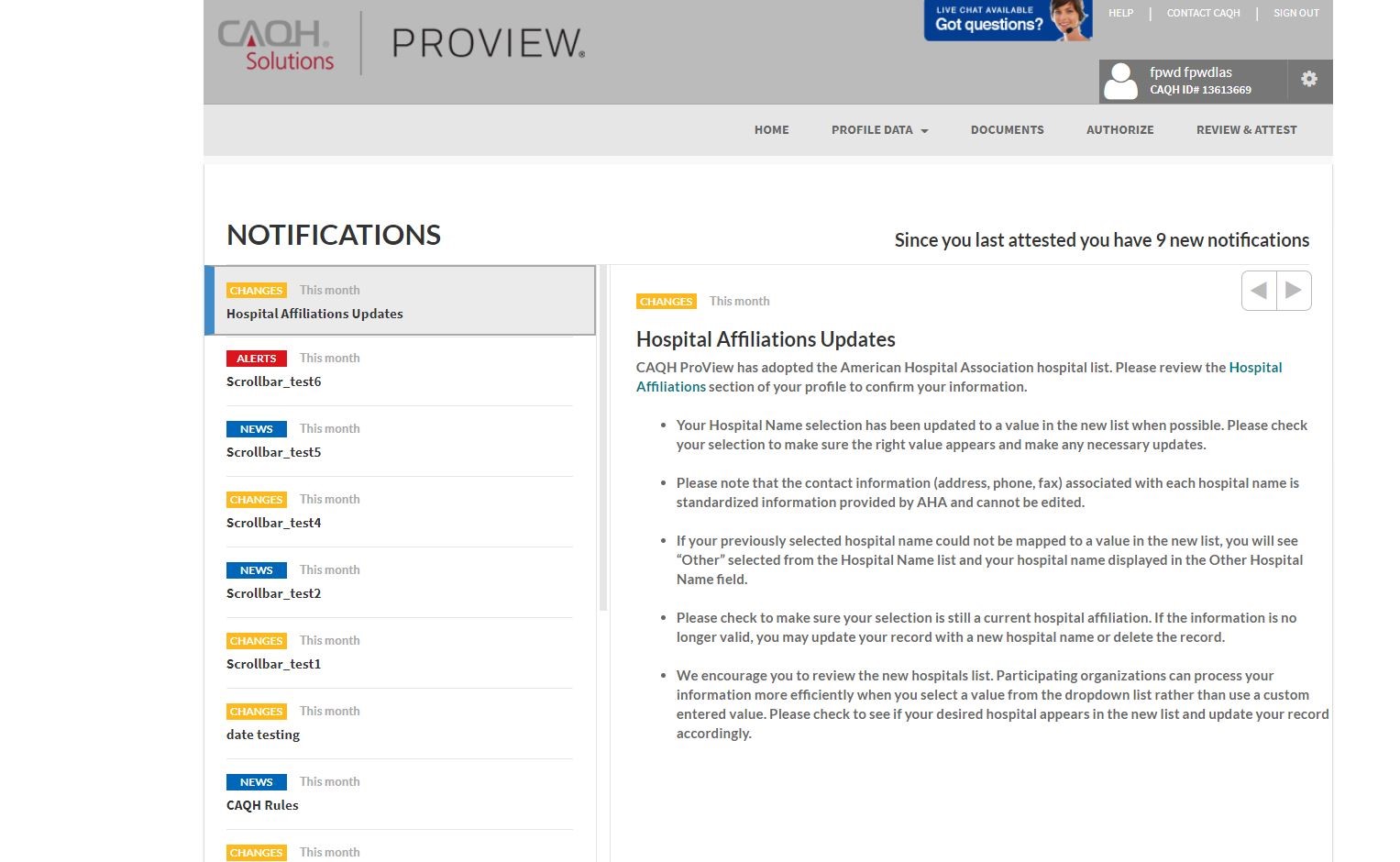 Social Security Number Validation
CAQH ProView will perform real time validation on the data entered into the Social Security Number field to ensure that the data entered is in the correct format and that the value is unique.
Area numbers (first three digits) cannot begin with 8 or 9 and cannot be 666 or 000.
Group numbers (middle two digits) must have a group range from 01-99.
Serial numbers (final four digits) must have a serial number range from 0001-9999.
Letters, spaces and special characters are not permitted.
Providers who have previously saved a Social Security Number in their profile that does not comply with the validation rules, will see a notification on the Correct Errors page indicating that the value must be corrected before the next attestation.
Updated Hospital Domain List
The hospitals domain list will be updated to reflect the American Hospital Association values.
Providers' previously selected hospitals will be replaced with the American Hospital Association equivalent, where applicable.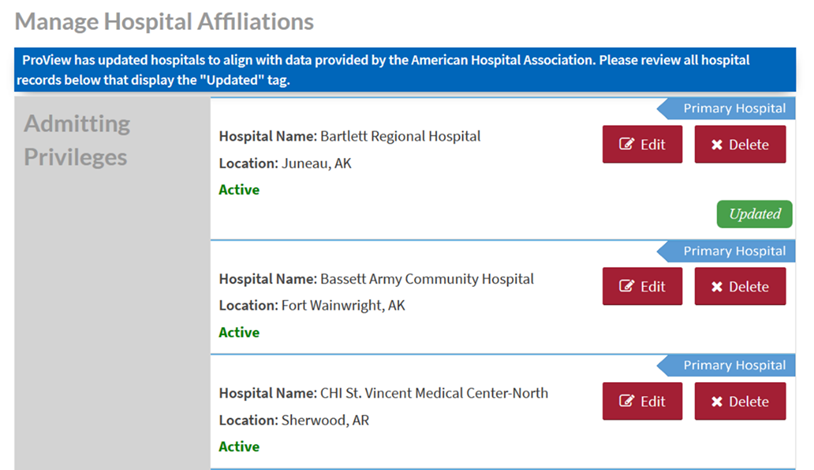 Providers creating a new hospital affiliation record will select from one of the values in the American Hospital Association list.
The address that the American Hospital Association has associated with the hospital will display and save in the provider's profile as read-only.
If providers do not see the desired hospital in the drop-down list, they can select the value of Other from the list and then enter the hospital's name in the Other Hospital Name field.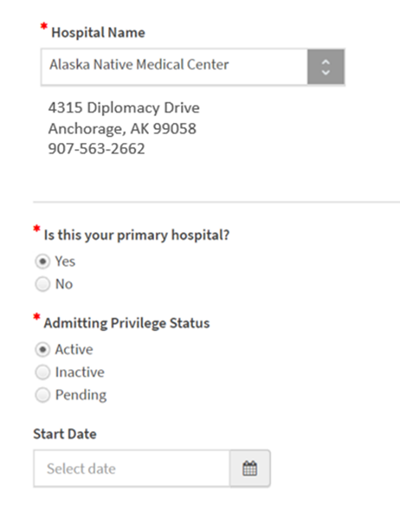 The previously selected values that do not map to the American Hospital Association list will see their hospital name listed in the Other Hospital Name field.
Providers will be required to review their updated hospital affiliations selections on the Correct Errors screen before their next attestion.

Updated Massachusetts and Oklahoma State Forms
Mapping updates will be made to the Massachusetts form to ensure that existing portal profile fields map to the replica.
CAQH ProView Release for December 10, 2018
The Tax Identification Field in the Illinois Application has been Updated
Illinois providers will no longer see the Business Arrangement section of the Practice Locations profile.
On the Illinois replica, the Business Arrangement section will populate with the provider's Tax Identification Number(s) entered in the Practice Location wizard.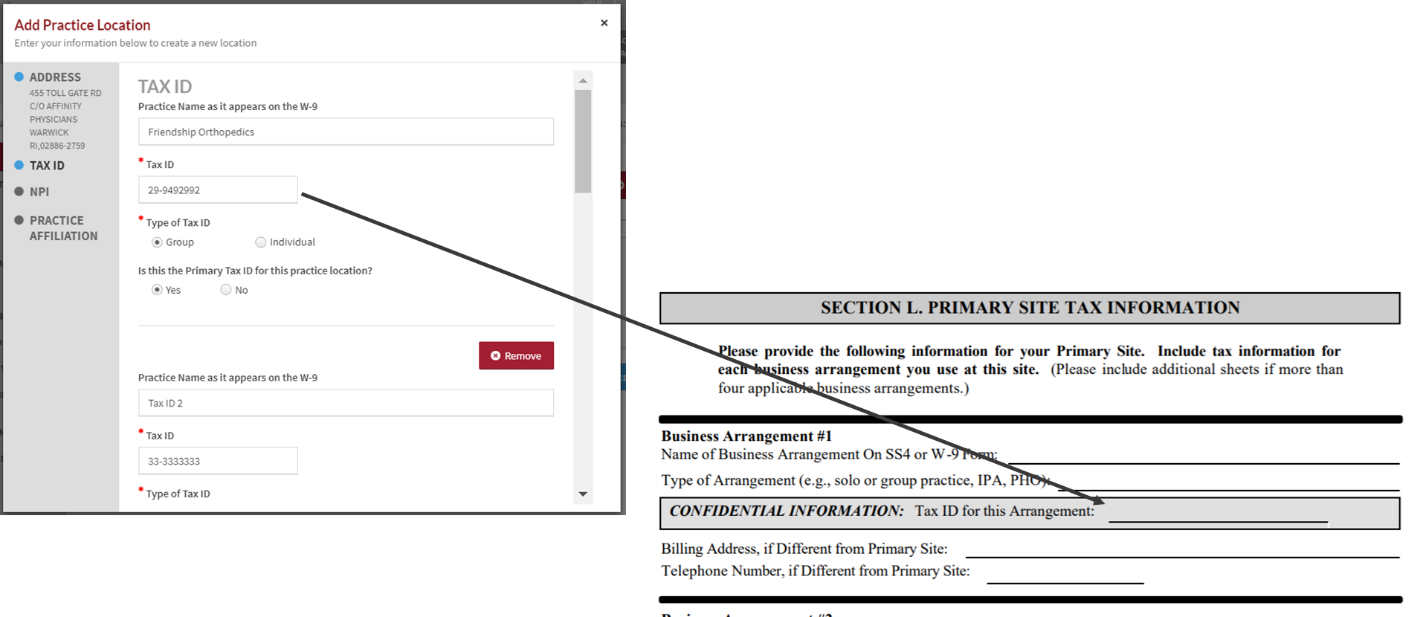 The Military Only Practice Value has been Expanded
The Military Only practice value has been expanded to include Federal providers.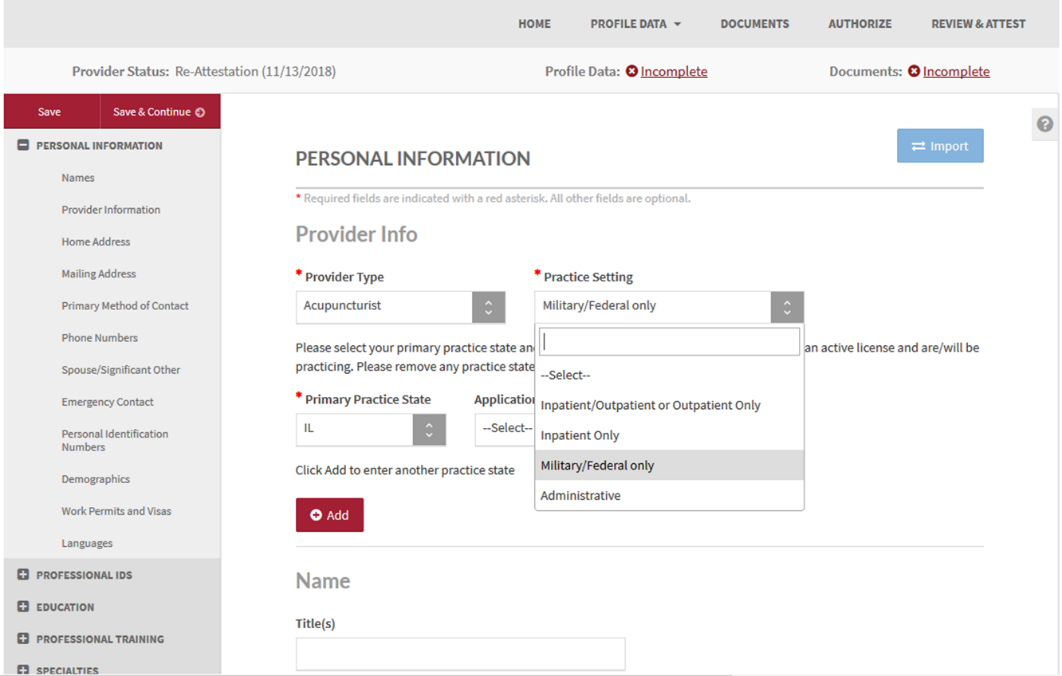 Military/Federal Only Providers are No Longer be Required to Enter a Provider License in Each Practice State
Military and other providers who practice in federally managed practices are not always required to maintain a valid license in the state in which they practice.
To that end, if a provider selects the Practice Setting value Military/Federal Only, the provider will need to provide a single valid license from any state.
The Documents screen will continue to display a License slot for each of their practice states.
A provider's license document will be approved even if the state in which the slot is labeled is different from the state that issued the license.
If a provider practices in several states, a License document slot may generate for every state that require an entry however, a copy of a single license will meet the document upload requirement.
Help copy was added to the Personal Information screen to assist providers with the Military/Federal Only update.
Additional Visa Questions were Added to the Personal Information Screen for Massachusetts Providers to Better Align with the States Credentialing Application
In the Work Permit section of the Personal Information screen, new copy is displayed to assist providers in understanding the updates.
Two new optional questions were added to the section:
Are you a sponsor?
Do you hold permanent immigrant status in the US?
Provider data elements will be mapped to the Massachusetts replica in the January 2019 release.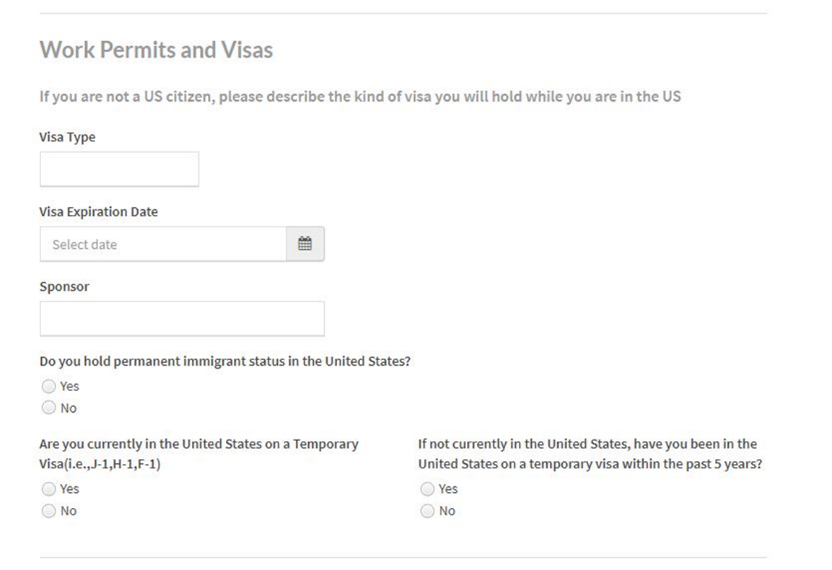 CAQH ProView Release for October 22, 2018
The Ability to Update Your Name
If you need to update your name (i.e., marriage, divorce, etc.), you can do so after you attest for the first time. 
The Ability to Create Secure Passwords
To comply with recent security standards, you are required to create more secure passwords.
CAQH ProView Release for September 24, 2018
New Fields Added: Cultural Competency, Accessibility, and Special Experience, Skills and Training
To assist health plans in meeting federal provider directory data requirements, additional fields have been added to the provider portal:
Cultural competency – Providers are asked if they have completed a cultural competency training.
Special experience, skills and training – Providers can indicate their experience in a predefined list of special interests.
Accessibility details – Providers can select specific accessibility values for each of their practice locations.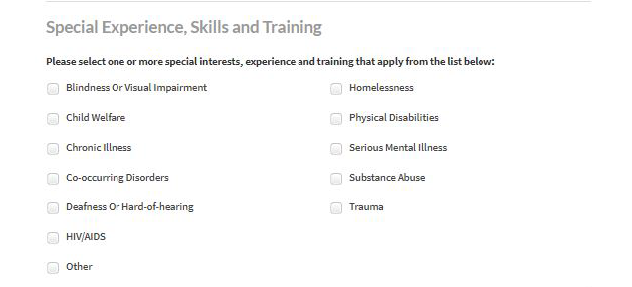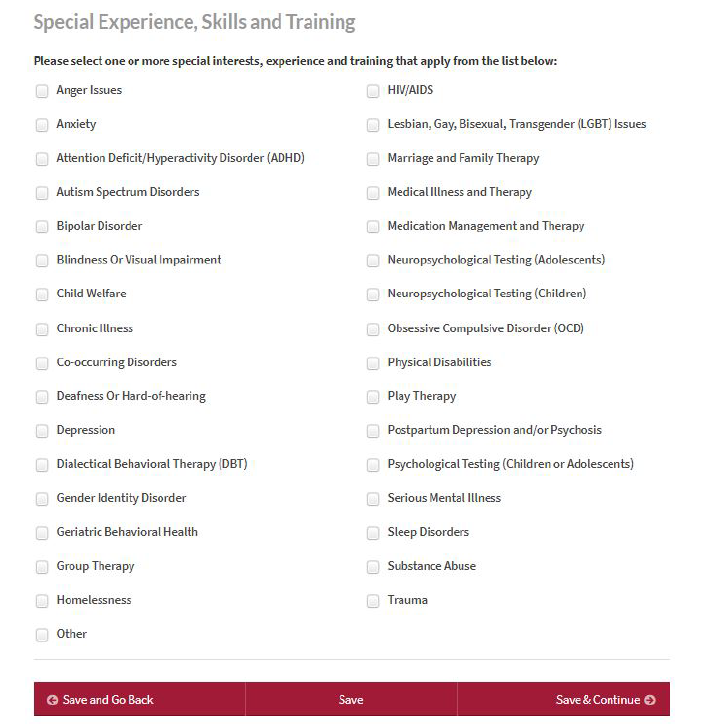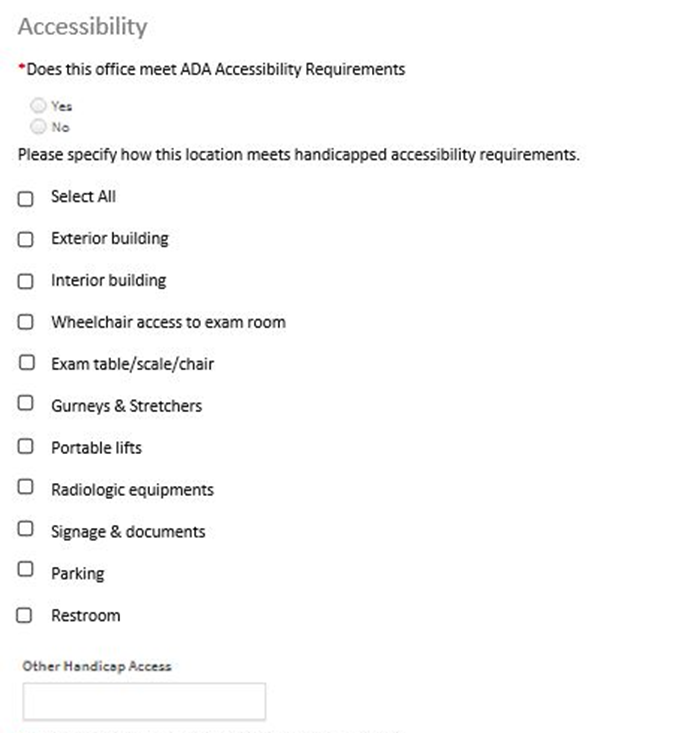 If you practice in states that use the CAQH application, you will be required to offer a disclosure explanation if you have answered "Yes" to a disclosure question.

If you have recently attested, this requirement will be enforced during your next re-attestation.
CAQH ProView Release for August 20, 2018
Updated Hospital Affiliations Section
To assist you in selecting a hospital from the drop-down menu before manually entering a  name, the "Other (Not Listed)" checkbox was removed from its current location, and instead "Other" was added at the end of the hospital list.  
After selecting "Other", a new field displays (titled Other Hospital Name) and you can manually enter your information there.
System Generated Re-Attestation Emails Will Include Instructions for American Dental Association (ADA) Providers
Re-attestation emails to dental providers who registered in CAQH ProView using the ADA.org portal now includes information to help them accurately complete the process.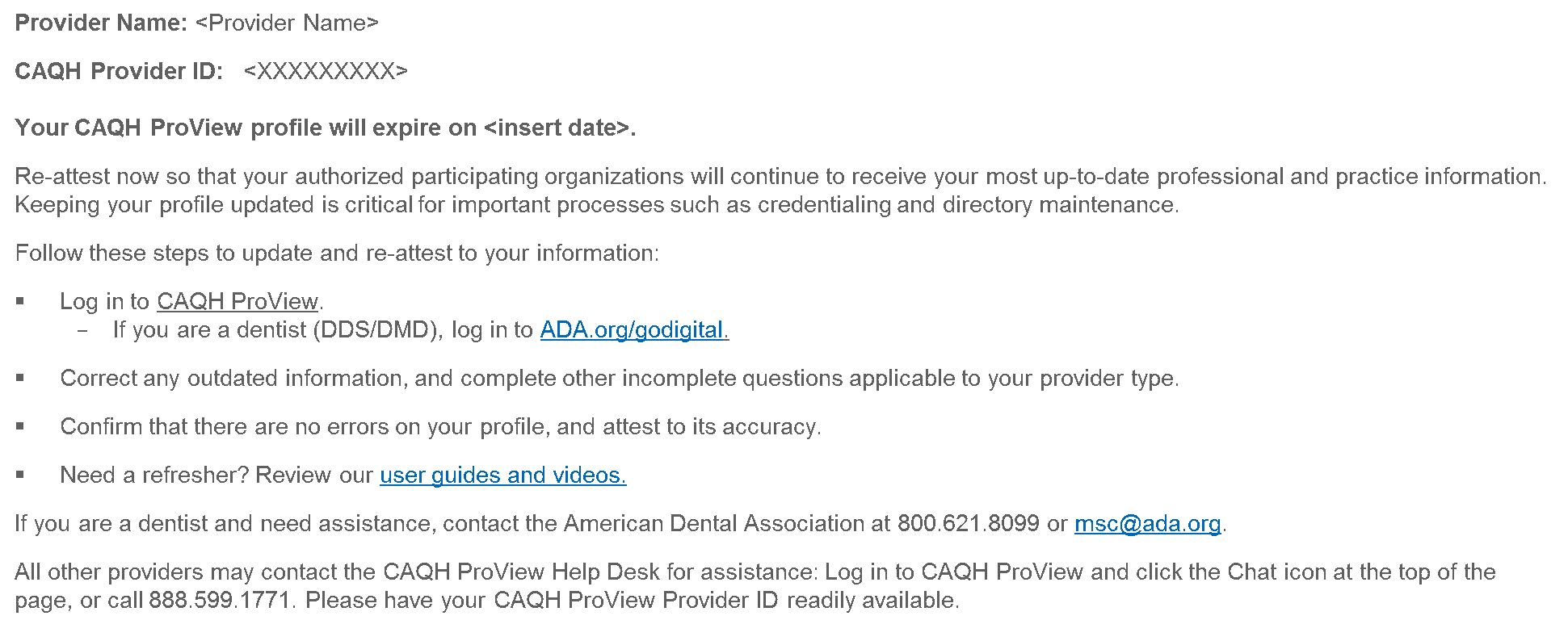 *15, 10, 5 days before expiration, day after expiration, 14, 28, and 42 days after expiration.
CAQH ProView Release for July 23, 2018
Providers Can No Longer Delete Approved AAR and PLI Documents
Once your Authorization, Attestation, and Release Form (AAR) or Professional Liability Insurance (PLI) document is approved, you no longer have the ability to edit or delete the document.
With each attestation, your AAR signature is updated. 
If you wish to update a PLI document, you should Renew your PLI policy.  A PLI slot will generate where you can upload a new file.
Providers are no Longer Able to Update their Social Security Number or Date of Birth
To improve data quality and accuracy, after your fist attestation, your Social Security Number and birth date are no longer editable. 
Updated Oklahoma Disclosure Questions
The disclosure questions in the CAQH ProView portal mirror the questions in the state application.
Updated Minnesota Application - Practice Locations
To meet the new state application requirements, you need to indicate if you are accepting new patients at your practice.
CAQH ProView Release for June 11, 2018
North Carolina Providers are Required to Submit Heath Plan Specific Release Forms
North Carolina providers who have never attested in CAQH ProView are required to upload an authorization and release (AAR) form for each health plan they have authorized to receive their data in CAQH ProView.
For those providers whom have previously attested, while it is not required to upload an AAR for each health plan to re-attest, it is recommended to avoid additional outreach from your contracted health plans.
Updated Georgia Application
The Georgia credentialing application for providers is updated to reflect the current version.
Illinois Providers will be Required to Enter Tax Identification (TIN) Information
The TIN field:
Requires providers to enter the best business Tax ID Business Type and will be required for every practice location record.
Is displayed in the Tax ID section of the data summary.
Uses the Business Arrangement tax information. 
Has been added to the Practice Manager Module.
Password Reset Functionality
As an added security measure, providers who have entered five failed password entries are directed to reset the information.
CAQH ProView Release for April 16, 2018
Enhanced Authorization Workflow
The process for authorizing access for organizations to subscribe to your data has been streamlined to reduce redundancies, and now clearly shows the organizations that are accessing your information for credentialing, provider directory improvement and more.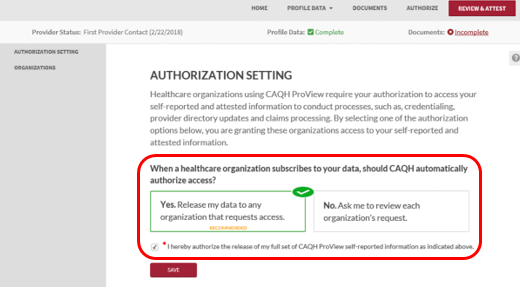 If you would like to self-select the organizations that should receive your information, after the question, "When a healthcare organization subscribes to your data, should CAQH automatically authorize access?" then choose the option, "No. Ask me to review the organization's request" and follow the prompts.
If you select "No. Ask me to review the organization's request," you will see the plans that are actively accessing your data on the Organizations page. Outstanding requests will be indicated as "New" and you will be required to select Authorize, or Do Not Authorize before attestation.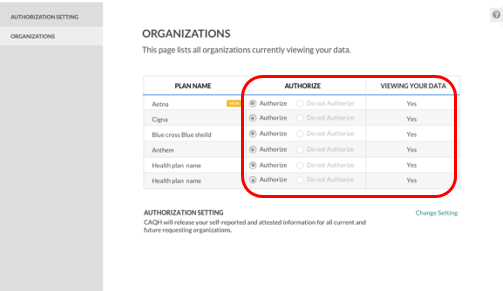 The "Viewing Your Data" column shows a "Yes" if an organization is actively accessing your data, and a "No" if they are not.
The Authorization Setting is noted at the bottom of the screen. Providers can change their selection and return to the Authorization Setting page by clicking "Change Setting" in the bottom right-hand corner.
CAQH ProView Release for February 20, 2018
Colorado Application Update
The CAQH ProView state application for Colorado reflects the December 2017 version.
Colorado disclosure question "C" reflects the following:
Have you ever involuntarily resigned, terminated, or surrendered medical staff privileges or employment from a hospital, group practice or other health care facility or medical staff?


Have you ever voluntarily resigned, terminated, or surrendered medical staff privileges or employment from a hospital, group practice or other health care facility or medical staff to avoid disciplinary action or investigation, or while under investigation or while such an investigation is/was pending?  If the provider answers "Yes," a date is required.
New fields have been added to the Professional Liability Insurance section:
Claims History Contact
Claims History Fax Number
Claims History E-mail
Massachusetts Application Update
Providers practicing in Massachusetts are required to enter tax identification in CAQH ProView.
Updates to Picklist Values
The following modifications have been made to picklist value for the following fields:
Specialty Board Added: The National Board of Osteopathic Physicians and Surgeons is now included. 
Additional Specialty Board Modification: The American Board of Sleep Medicine and the National Board for Certified Clinical Hypnotherapists can now be selected by additional provider types. Also, additional boards are now available for the Hospitalist provider type to select. 
Provider Training
Providers indicating that they have interned, fulfilled a residency, or participated in a fellowship are required to enter relevant data about each opportunity.
CAQH ProView Release for January 22, 2018
Updating Profile Email Address 
Providers have the ability to retrieve their password by following the retrieval prompts.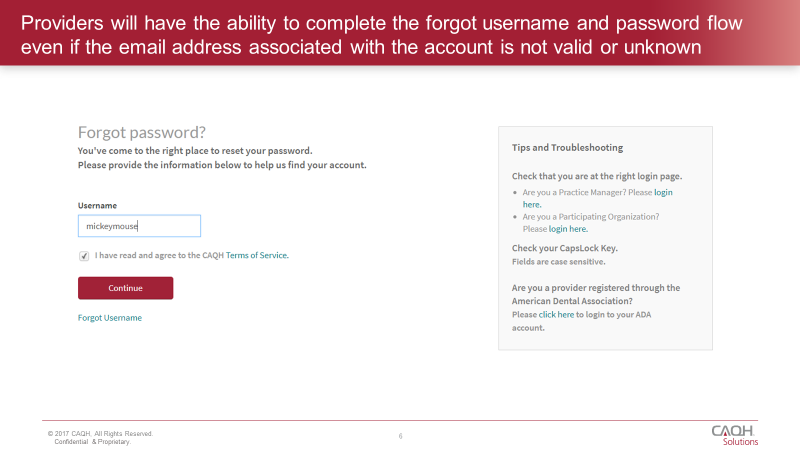 As a security measure, the user must provide specific profile information before a password reset link is dispatched.
Users also have the ability to update their email address.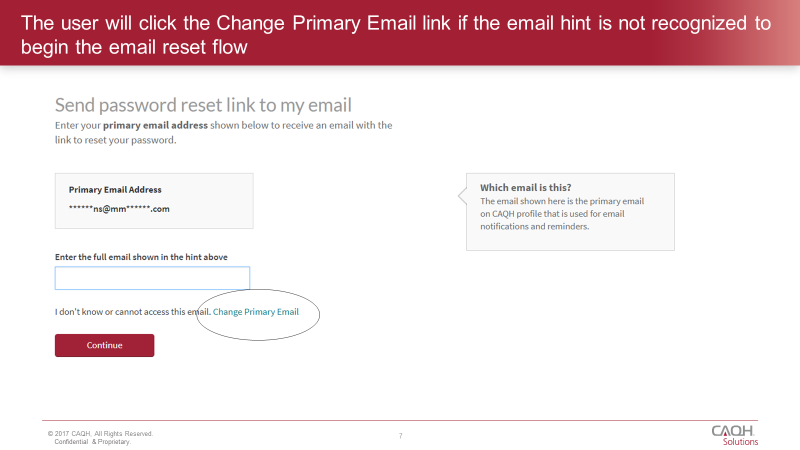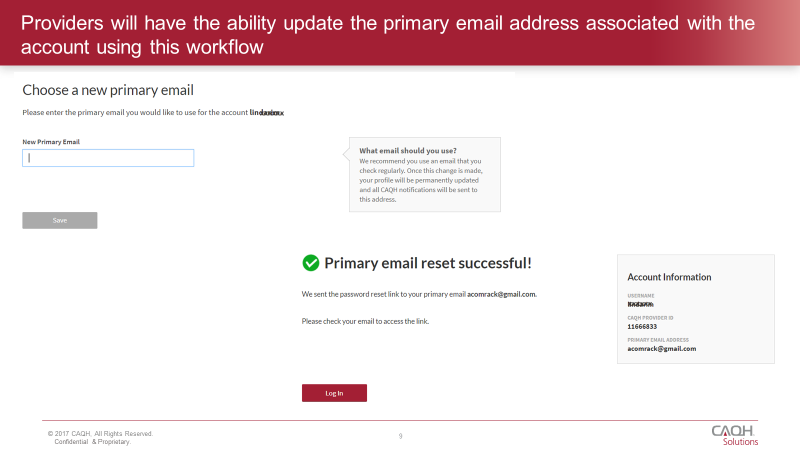 CAQH ProView Release for October 30, 2017
Practice Location Data:
We have improved the questions and format in CAQH Proview related to practice location and plan participation to reduce the amount of outreach you receive from plans that seek to improve the quality of their directories. 
The practice location data reconciliation is now a two-step process for many providers. 
First, all providers will be required to confirm their practice location information during their attestation or re-attestation period.  A pop-up alert will appear inviting you to initiate the process.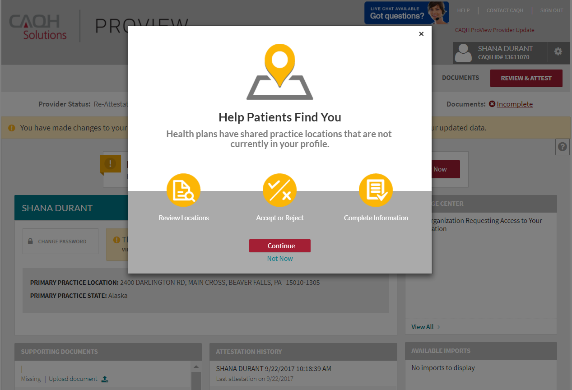 A prompt will also appear on your profile dashboard to address outstanding concerns, including asking you more specific questions about practice locations.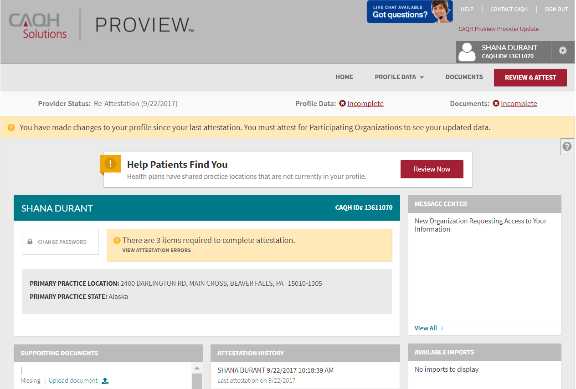 A new feature has been added to increase location accuracy. You will now be able to copy and/or delete specific data elements in practice locations and archive historical practice location data.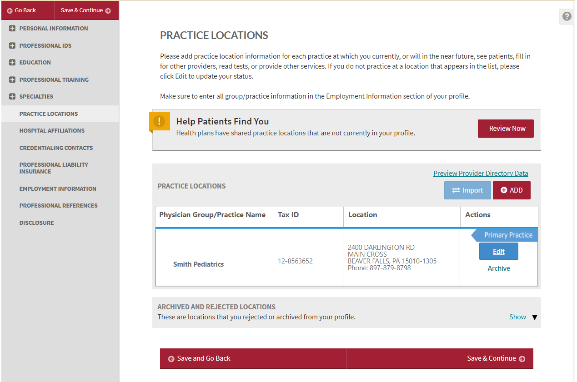 Providers can also accept, reject or respond, "I don't know" for each health and dental plan provider location.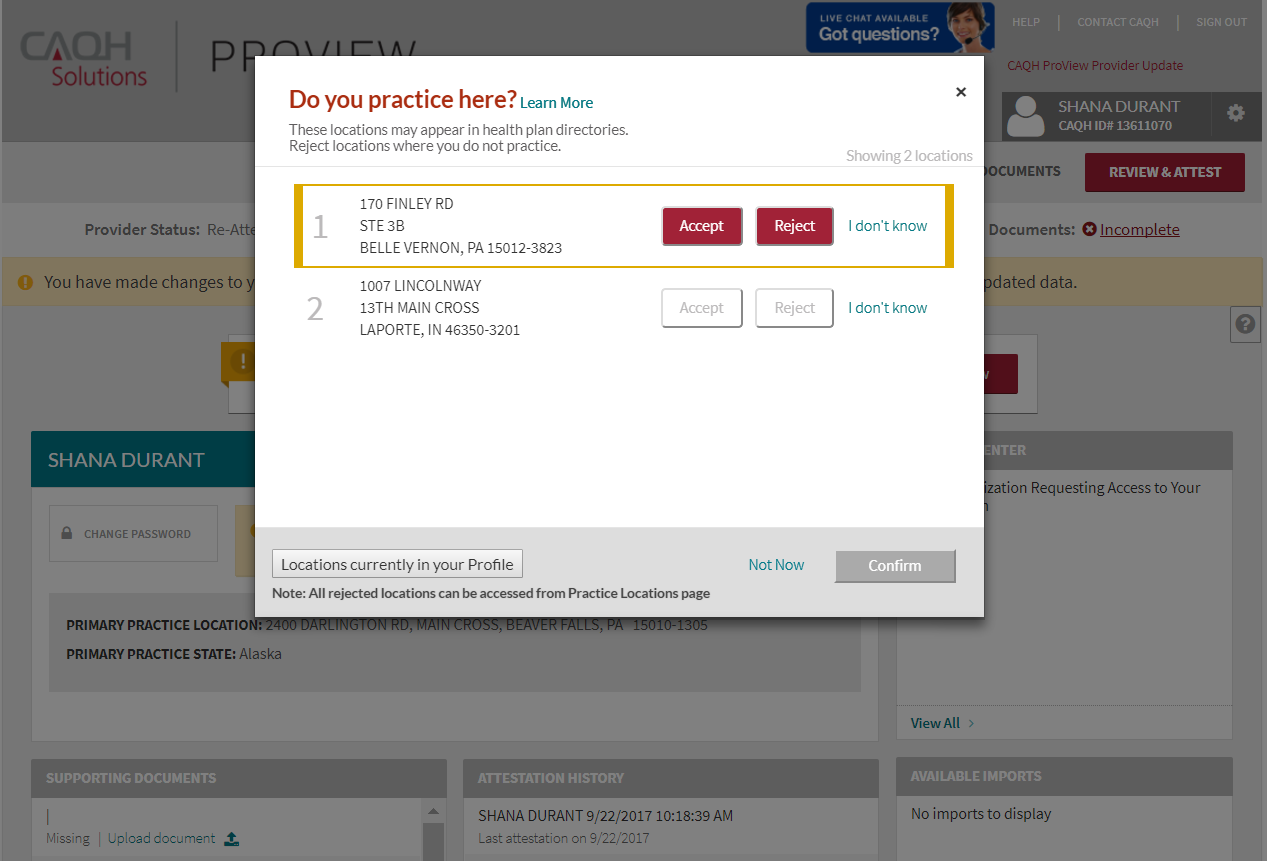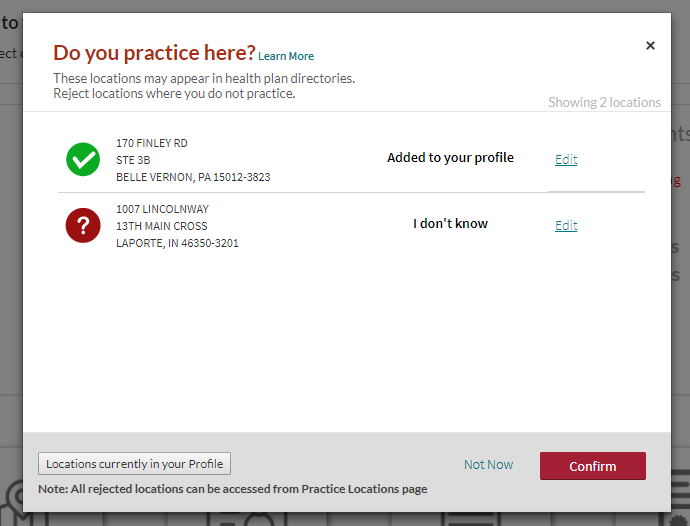 Providers archiving their practice location information will need to explain why it should be archived.  The archived information will be housed in the Archived and Rejected Locations table.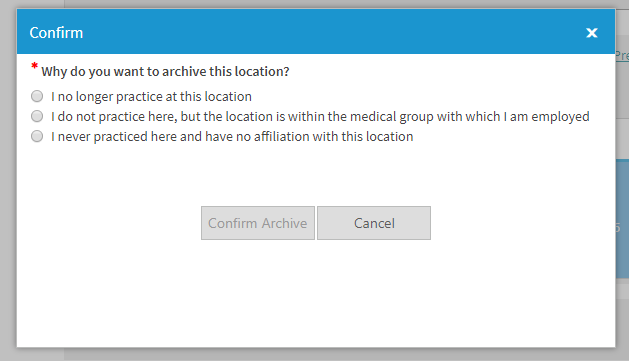 Most providers in CAQH ProView are rostered by plans that are also using the system to improve their provider accuracy. Those rostered providers will now be required to answer additional questions surrounding plan participation and if they are accepting new patients.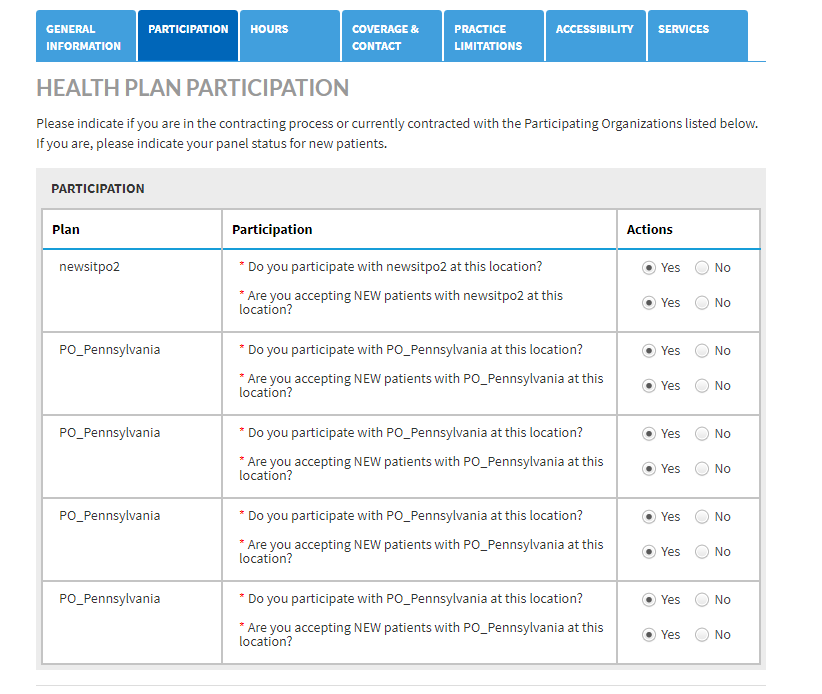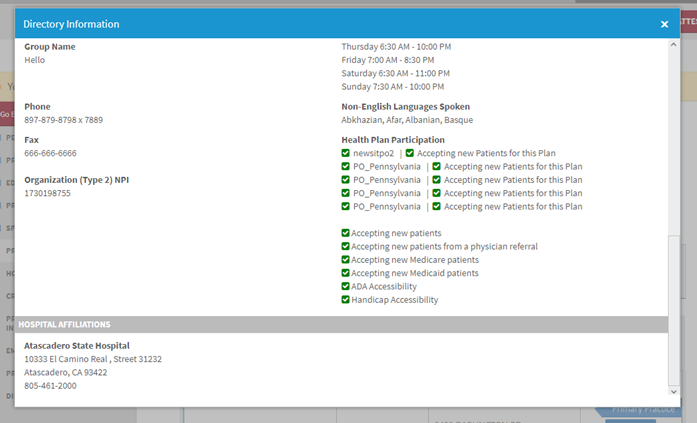 As a housekeeping measure, we have removed the Group Number field since it mirrored the information that is housed within the Organizational (Type 2) NPI field.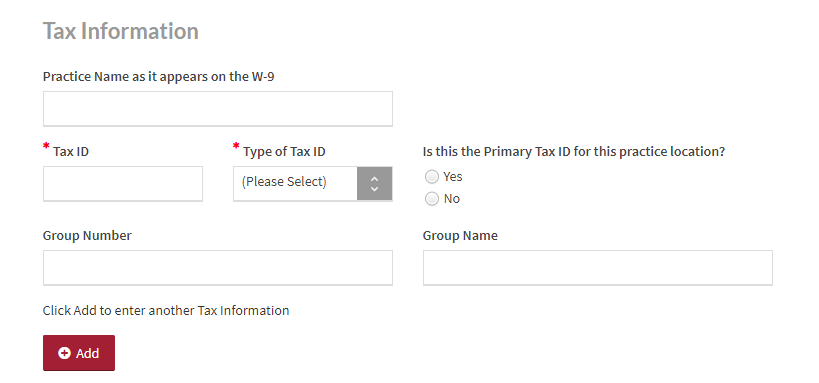 Review and Attestation Screens
The review and attention screens are now consolidated to reduce the time it takes to re-attest to profiles.  If you do not have errors, the attestation button is active as soon as you select Review and Attest.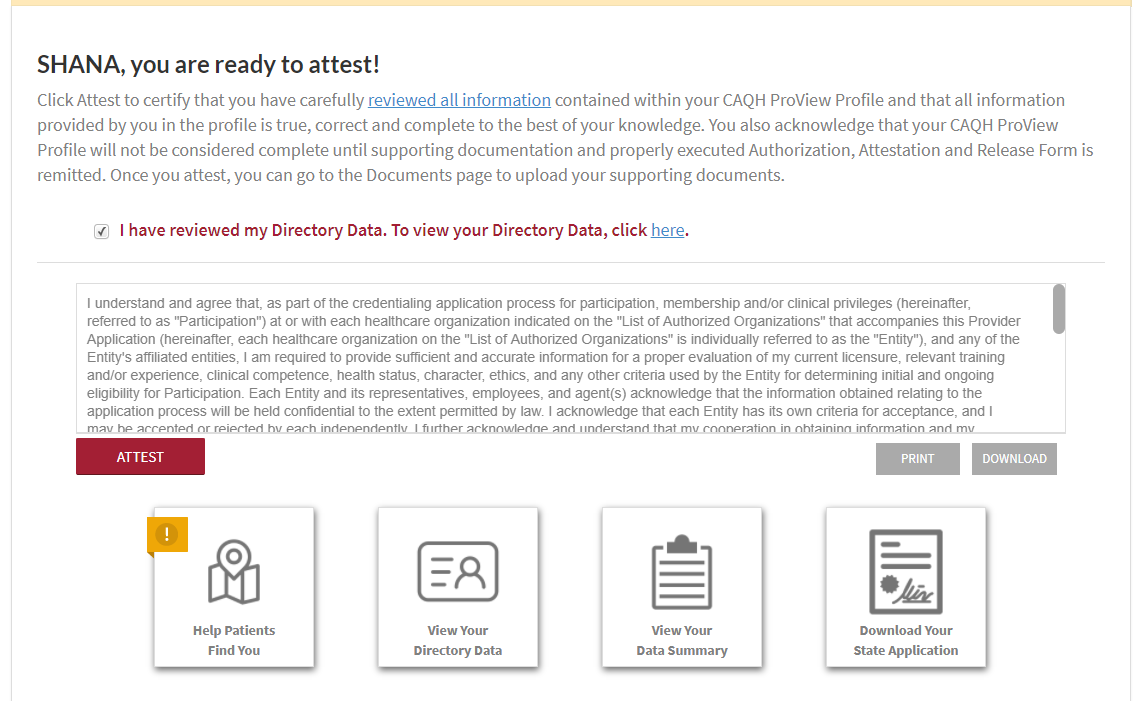 Conditional Employment Gap
For providers operating in states that require additional information for employment gaps, instructions will be provided under Employment Information to help guide you through the process.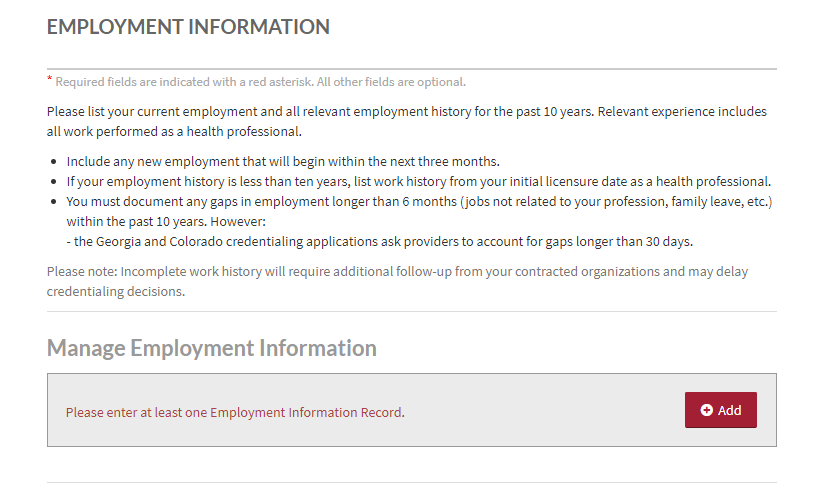 Application Release Documents - Oklahoma
You will be required to upload both the CAQH ProView and Oklahoma application release documents (AAR). If you have submitted the AAR and CAQH ProView application, you will now be required to resubmit within the appropriate location on the documents page. System prompts will direct you to that location.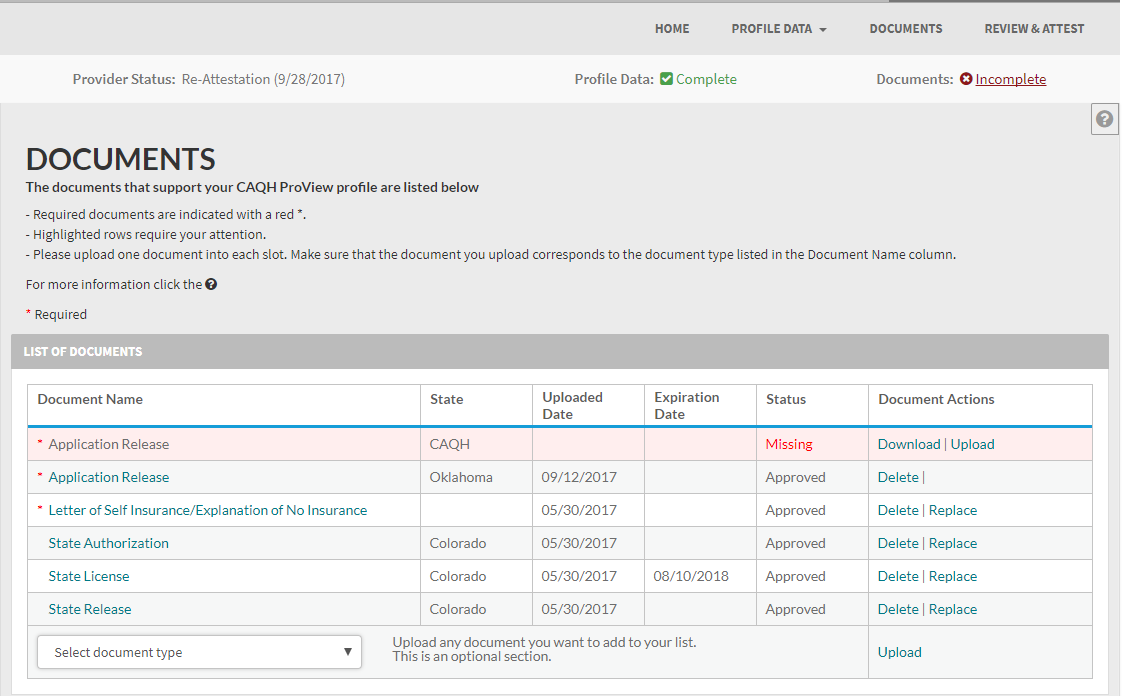 CAQH ProView Release for July 31, 2017
Practice Location Affiliation
Within the Practice Location section, providers will be reminded to respond to the following question:  

Please describe your affiliation with this location.
A list of options will be made available for selection.
WHY: The required questions in the Practice Location section will assist providers in sharing the most relevant, accurate and up-to-date data with health plans.
IMPACT: < 10 minutes per provider.
NOTE: These changes will NOT affect a provider's status in CAQH ProView or the ability for authorized participating organizations to view an already current and complete data profile.
Colorado Application Update
In continued support of state requirements, the CAQH ProView provider portal will be updated to reflect the Colorado 2016 application.
This release will include the following additional questions:
In the Employment Information section of the profile, a provider will be asked "Is this your current employer?"
If the provider answers No, a new field will ask "Are you eligible for rehire?"

If the provider answers No to that question, the provider will be required to enter content for: "Please explain."
2. In the Disclosure section, providers will be asked, "Have you ever voluntarily or involuntarily resigned, terminated or surrendered medical staff privileges or employment from a hospital, group practice or other health care facility or medical staff?"
If the provider answers Yes, to that question, providers will be required to enter the Date of Event, fill in a text field for "Please explain" and answer: "Was it to avoid disciplinary action or investigation or while under investigation, or is such an investigation pending? Yes/No.

If the provider answers Yes to that question, the provider will be required to enter content for: "Please explain."
3. In the Disclosure section, providers will be asked the following Yes/No question: "The Colorado Board of Health requires licensed health care facilities to annually report their health care worker influenza vaccination rate and achieve a vaccination rate of at least 90%. To facilitate compliance with this rule, some health care facilities may require annual influenza vaccination of employees and staff. If this facility must comply with the Colorado Board of Health requirements, I agree to provide proof of influenza vaccination before practicing at this facility."
WHY: The Colorado credentialing application is maintained by Colorado Physicians Insurance Company (COPIC). In 2016, COPIC revised the application by introducing additional required questions in their 2016 update.
IMPACT: < 10 minutes per provider.
Updates Released on April 25, 2017:
Confirming Practice Location Phone Numbers
In an ongoing effort to improve the accuracy of provider information listed within directories, CAQH ProView will ask providers to confirm that the phone number listed for each practice location is the primary method that patients should use when scheduling an appointment. 
 
HOW TO PREPARE:
 On the Review Screen, the provider will be asked to confirm that the phone number entered in the Office Phone Number field should be used by patients to schedule an appointment.    
IMPACT: 
<1 minute per location entry.  
WHY:
 Patients depend on the accuracy of provider directories when choosing a health plan and physicians. Inaccurate directories pose significant challenges for patients, contributing to delays in care, limiting choices of providers and masking problems with network adequacy.   
Improved provider directories will:
Display an accurate account of the health plan network.
Identify providers who are accepting new patients and their contracted insurance coverage.
List providers who meet the language and location needs of patients.
The "CAQH ProView Update-April 18, 2017" email referenced enhancements to the Hospital Affiliations Admitting Privilege Status slated for release on April 24, 2017. This is incorrect and those enhancements will not be included. The CAQH ProView April 24, 2017 system update will focus solely on Confirming Practice Location Phone Numbers as previously communicated. We apologize for any inconvenience this may have caused.

CAQH ProView released updates and improvements on Tuesday, January 17th. Although some of these updates may require additional time during your next re-attestation, the enhancements address the ongoing need to increase provider data accuracy within health plan directories, particularly practice location. Healthcare providers benefit when their information is reflected accurately in the directories that patients use to choose their care.
Updates Released on January 17, 2017:
Improved Practice Location Data
To assist providers and plans to meet federal and state mandates to improve provider directory accuracy, CAQH ProView now requires practice managers and providers to:
Review and verify their practice address(es) to ensure the information is correct, and
Qualify their association with each practice location. For example, providers have the ability to differentiate between the locations where they are continuously practicing versus covering for support personnel
Estimated Time and Resource Commitment for Data Updating and Review: 
Estimate 1-2 minutes for each location. For each practice location, providers are asked to confirm if they practice at a location and to qualify their affiliation. A termination date will be required for locations where the provider no longer practices.
Required Information:
Knowledge of a provider's practice location and affiliation. 
Organized Practice Location Display
Previously, practice locations were cataloged in the order entered by the practice manager and provider. CAQH ProView has changed how practice locations are displayed to assist in managing this information. 
Practice locations sharing addresses will be coupled, primary practices will appear at the beginning of the list, and the user will have the ability to filter the information based on the provider location.
Estimated Time and Resource Commitment: 
0 minutes; the display updates automatically.
Required Information:
Knowledge of a provider's affiliation with each location.
Expanded Re-attestation Correspondences to Include Second Tiered Contacts
CAQH ProView circulates pending re-attestation email alerts to the primary contact listed on each provider profile. To ensure practice managers and providers avoid missing critical credentialing deadlines, CAQH ProView will include second-tiered contacts in its pending re-attestation email alerts. 
Estimated Time and Resource Commitment: 
0 minutes
Required Information:
None 
These changes do NOT affect a provider's status in CAQH ProView or the ability for authorized participating organizations to view an already current and complete data profile.